IT-solutions

DV REPORT – special software with ready-to-use presentations on the automotive market
National Industrial Information Agency offers a unique product:
DV Report – a software facilitator for marketing departments that allows the team to shift the focus
from the routine to strategy development.
Whatever the market situation is, it is clearly indispensable to navigate across information oceans and
apply the data efficiently.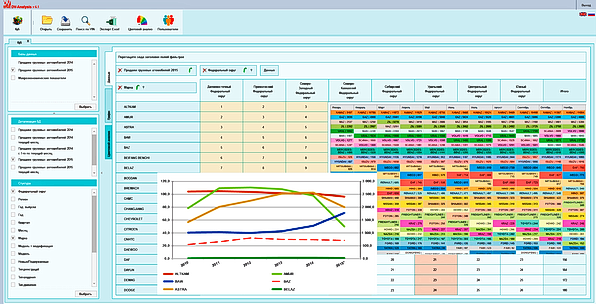 National Industrial Information Agency presents an IT-solution:
DV-Analysis v.6.2.
DV-Analysis is a unique tool for data analysis that allows you to monitor sales and changes in the automotive market in volume, shares in various segments in combination with macroeconomic data.
DV-Analysis can be customized for internal company analysis and for other industries


DV-GIS, v.2.1 – is specialized software for market analysis and making strategic decisions on company development